Description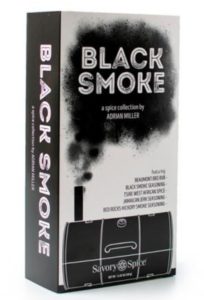 Savory Spice is proud to partner with James Beard award-winning cookbook author Adrian Miller on a collection of regional African American barbecue seasonings to coincide with his book, Black Smoke: African Americans and the United States of Barbecue.
This spice set contains five 1/2 cup bags of these staples in African American barbecue history:
Black Smoke Seasoning
Beaumont BBQ Rub
Tsire West African Spice
Jamaican Jerk Seasoning
Red Rocks Hickory Smoke Seasoning
About Black Smoke Seasoning
John Frank Garth inspired this spice blend. Garth was born in Dekalb, Texas on Nov. 11, 1921. A US Navy cook, he later became the head chef at the Denver Country Club. He developed his barbecue rub recipe in 1955. For years, Garth sent his signature rub and sauce to people around the country. With a few updates to the original recipe, this paprika-based seasoning shines on smoked meats. We recommend trying with chicken, pork chops, pork spare ribs, and steak.
About Jamaican Jerk Seasoning
"Jerk" is a cooking method where food is seasoned with a chile-based spice blend and then cooked in a wood-fired pit. Jerk fuses the culinary traditions of Jamaica's indigenous people with formerly enslaved Africans.
About Beaumont BBQ Rub
Enslaved African Americans developed East Texas barbecue in the early 1800s. Later, the Cajun and Creole flavors of neighboring Louisiana influenced the food served in the region's barbecue joints.
About Tsire West African Spice
Tsire meat skewers are a popular Nigerian street food.  Traditionally combined with finely ground peanuts, this sweet-spiced blend turns grilled beef, chicken, or lamb into a flavorful, portable feast.
About Red Rocks Hickory Smoke Seasoning
This smoky, salty seasoning complements the best cuts of red meat. Great for grilling with steak, or adding color and flavor to chicken, pork, and vegetables.
Ingredients
Black Smoke Seasoning: paprika, garlic, salt, sugar, black pepper, vegetable bouillon, white wine vinegar, arrowroot, onion, turmeric, celery, fenugreek, mace, lemon, thyme, coriander
Beaumont BBQ Rub: sugar, salt, paprika, garlic, onion, black pepper, cayenne, thyme, oregano
Tsire West African Spice: cinnamon, crushed red pepper, salt, ginger, nutmeg, allspice, clove
Jamaican Jerk Seasoning: Toasted onion, salt, allspice, garlic, sugar, Mediterranean thyme, chives, black pepper, nutmeg, Saigon cinnamon, sage, scotch bonnet chiles
Red Rocks Hickory Smoke Seasoning: Hickory smoke salt, Hungarian and California paprika, roasted garlic, toasted onion, black pepper, hickory smoke flavoring, Greek oregano