The 2014 James Beard Foundation Awards Dinner was an amazing experience! The weekend was a blur so my bad on the delay in posting. First, here's a rundown of the meal: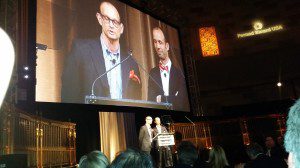 Matt and Ted Lee (a.k.a. "The Lee Brothers") were our hosts for the evening, and they brought us the "Amuse Bouche" which was:
Blue Crab Salad with Sea Kale and Bay Flower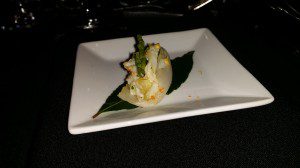 It was paired with Stella Artois beer and Jacob's Creek Barossa Reserve Riesling 2009.
The appetizer was prepared by Chef Steven Satterfield of the Miller Union restaurant in Atlanta.
Smoked Cobia with Spring Vegetables and Meyer Lemon paired with a Brancott B Sauvignon Blanc 2012.
I was REALLY enjoying this when my name was called. By the time I had accepted the award, sipped some champagne, taken a publicity shot, my plate had been cleared by the time I got to the table. Talk about being bummed.
The entrée was prepared by Anne Quantrano of Bacchanalia restaurant in Atlanta.
White Oak Pastures Guinea Hen with Georgia Asparagus,  Fennel, Preserved Lemon and Natural Consommé paired with a Ysios Reserva Rioja 2006.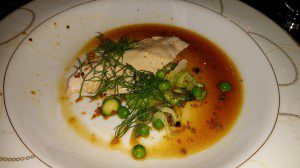 I may have had Guinea hen in the past, but I just don't recall. I thought it was tasty, and I look forward to eating other versions of it.
Star Provisions selected an array of southern cheese:
Garrett's Ferry (a Many Fold Farm sheep's milk cheese), Hunkadora (a Prodigal Farm goat's milk cheese), Nickajack (a Sequatchie Cove Creamery raw cow's milk cheese), Fortsonia (a Nature's Harmony Farm raw cow's milk cheese) and Elberton Blue (a Nature's Harmony Farm raw cow's milk cheese).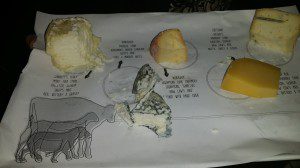 I had a hunk of burning love for the Hunkadora!
And for the dessert from Phoebe Lawless of Scratch Bakery in Durham, NC . . .
Anson Mills Appalachian buckwheat stack cake with North Carolina strawberries, green berry preserves and buttermilk custard.