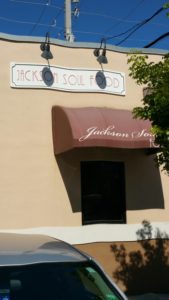 I've eaten in soul food restaurants all across the country. It's unusual to find a soul food restaurant outside of a predominately black neighborhood, or a part of town where African Americans work. Jackson Soul Food aims to be the exception to the rule.
Jackson Soul Food is an old-school joint that's operated in Miami since 1946. That means it's only two years younger than The Florida Avenue Grill in Washington, D.C. which is the oldest known soul food joint. I applaud Jackson for having a second generation of family members and employees who were willing to further the founder's legacy. Often, the kids aren't interested in the restaurant business. Frankly, many parents don't want that. They endured restaurant life in order for their kids to have a better life. Here's a look at a poster of the restaurant's history that hangs in the Overtown location: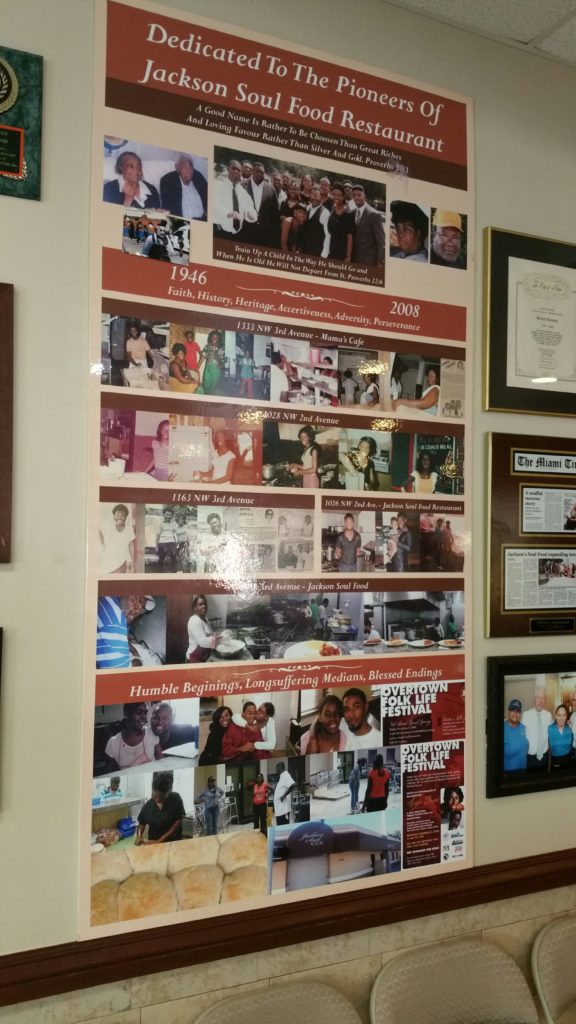 I was pressed for time, so I got a fried catfish (hot & crispy) dinner to go with collard greens (seasoned with smoked turkey), potato salad and pigeon peas & rice for sides.
I was intrigued by their weekend special of "boiled fish and grits." I told the general manager that I had never heard of that before. She said it is a popular dish on the Bahamas, and she kind enough to give me a sample. The dish contained chunks of grouper, some vegetable bits and a salty broth. I thought it was good, and will try it again some day.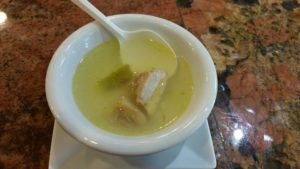 While researching additional soul food restaurants to visit in the Miami area, I came across a Miami.com article reporting that Jackson Soul Food had recently opened up another restaurant in ritzy Miami Beach. Suddenly, I had an excellent opportunity to compare how a soul food restaurant might play out in a predominantly white part of town. Jackson's Miami Beach location is certainly beautiful, but hard-to-find. There's no signage yet.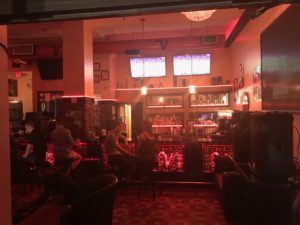 Once I confirmed that I was in the right place, my dinner guest, Derek Kirk of "Soulphoodie," and I ordered some food. That was an adventure. They were pretty much out of everything I wanted to try. I ultimately got ox tails with white rice, candied yams and a strawberry slushee (you know that I had to get a red drink!). Derek got a nicely done fried pork chop, mac 'n' cheese and black-eyed peas.
The entrées were fine, but the sides were disappointing due to a lack of seasoning and flavor. I cut them some slack since they just opened, but if they don't step up their food game, the Miami Beach location may not be long for this world. Derek thought that the long-term success of this location may depend upon them creating dishes that capture the Miami Beach vibe, perhaps more fusion dishes. I think that and shrinking the menu from what is offered in other locations would probably help as well. I would certainly visit again once the kitchen has worked out the kinks.
All in all, I do wish Jackson Soul Food the very best.
Website: http://www.jacksonsoulfood.com/
Twitter: @JacksonSoulFood
Locations
Overtown (first location)
950 NW 3rd Avenue
Miami, FL 33136, United States
(305)374-7661
Hard Rock Stadium, Section 134
J950/Jackson Soul Food
1330 Ocean Drive
Miami Beach, FL
Opa Locka
14511 NW27th Avenue
Opa Locka, 33054
(305)982-8167