The National Museum of African American History and Culture ("NMAAHC") recently celebrated its first year of being open to the public. I had the pleasure of visiting the NMAAHC in late October 2016. I was in Washington, D.C. to be a guest speaker at the Smithsonian National Museum of American History's Second Annual Food History Weekend. The day after my speaking stint was over, I finally got to NMAAHC. The experience was breathtaking, and one that I will always remember.
I could easily see why so many people have visited this special place. Check out these amazing statistics for the NMAAHC recently published by Architectural Record:
Almost 2.5 million visitors walked through the 400,000-square-foot building.

Of those visitors, 922 were ambassadors.

About 10,000 of all 2.5 million people who passed through were between the ages of 4 and 7 years old.

About 3,000 objects were on display while NMAAHC's permanent collection is more than 13 times that size, at almost 40,000 objects.

NMAAHC hosted 46 public events, including 3 movie premiers.

Every day, visitors bought 2,500 meals at the museum's built-in restaurant, Sweet Home Café, which went through about 1,000 pounds of collard greens, 500 pounds of local blue catfish, and 400 pounds of trout each week.

The building uses 19,400 gallons of water per day, captured from condensation, rain, and ground water.

The museum published 9 books and 33 scholarly articles.
The museum's exhibits abound with so much information that one could easily spend most of the day on one floor, just reading and reflecting on various aspects of African American culture.
I know that the NMAAHC can't extensively document EVERYTHING about the black experience in the U.S., but I was grateful for the nod to those of us in the western United States. Even notable figures from my home state Colorado's past got some recognition. Most notably, Clara Brown, a formerly enslaved African American woman, who was a successful entrepreneur and philanthropist in Gold Rush-era Colorado.
But, I am the "Soul Food Scholar" after all, so one can understand my excitement for Sweet Home Cafe, NMAAHC's highly anticipated restaurant. Following the precedent set by The Mitsitam Cafe at the National Museum of the American Indian, Sweet Home Cafe features chef-driven food to celebrate the traditional cuisines of the museum's subject matter.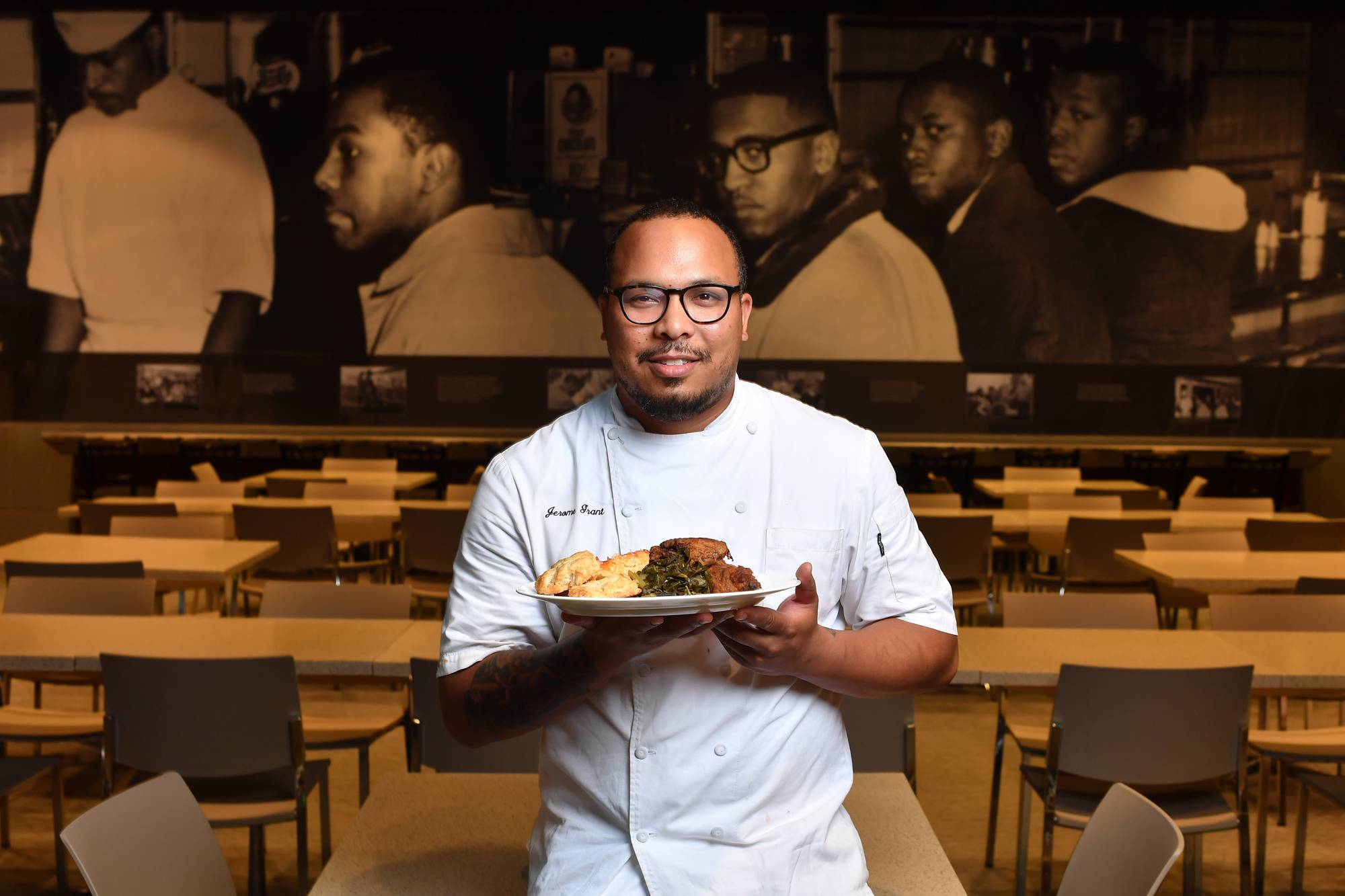 Sweet Home Cafe, helmed by Executive Chef Jerome Grant (previously of The Mitsitam Cafe), is a joy. With consultation from noted culinary historian Jessica B. Harris, the restaurant explores four regional and traditional African American cuisines: the Agricultural South, the Creole Coast, the North States, and the Western Range. Each region has a separate menu and serving station.
On my visit, the lines were longest at the Agricultural South and Creole Coast stations. This is no surprise because southern/soul food and Creole/cajun food are well-recognized cuisines. I was drawn to the Western Range station because it specifically showcased food that was representative of my native Colorado. I ended up ordering the Pan Roast Rainbow Trout served with cornbread and mustard green stuffing and hazelnut brown butter. For dessert I got a berry and (Colorado) peach crisp. Both dishes were AMAZING!
I only had two disappointments from my Sweet Home Cafe dining experience. First, pumpkin pie abounded on the dessert table, but THERE WAS NO SWEET POTATO PIE IN SIGHT. Second, the beverage case DIDN'T HAVE ANY RED DRINK. Dang! Yes, these are tragic occurrences, but I still highly encourage to take time to eat at NMAAHC. The culinary staff there is doing us all proud.
Soulfully yours,
Adrian