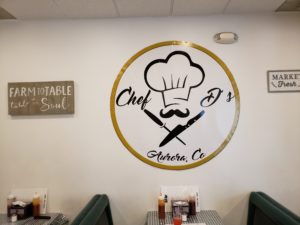 I picked my dad up at the airport, and on the way home he said that he was hungry. Thanks to Colorado State Senator Rhonda Fields' Facebook post, I knew about a new soul food place on our route: Chef D's at the Aurora Town Center (formerly the Aurora Mall).
There isn't a lot of seating here, so the place has a takeout vibe. We got the "honey hot" chicken wings, "smack" 'n' cheese, collard greens, apple cobbler, and peach cobbler.
The chicken wings were excellent, the greens were pretty standard, and despite its creative name, the mac 'n' cheese was also pretty standard. The real standouts were the apple cobbler (look at all that crust from getting the corner piece, y'all!) and the peach cobbler. I can't wait to get more of those!
Overall, I liked my first taste of Chef D's, and I look forward to trying more.
Chef D Presents Momma's Soul Kitchen
14200 E. Alameda ave
Aurora, Colorado 80012
(at the mall entrance between Sears and Macy's)
Oh, yes, this place had very interesting napkins as well: