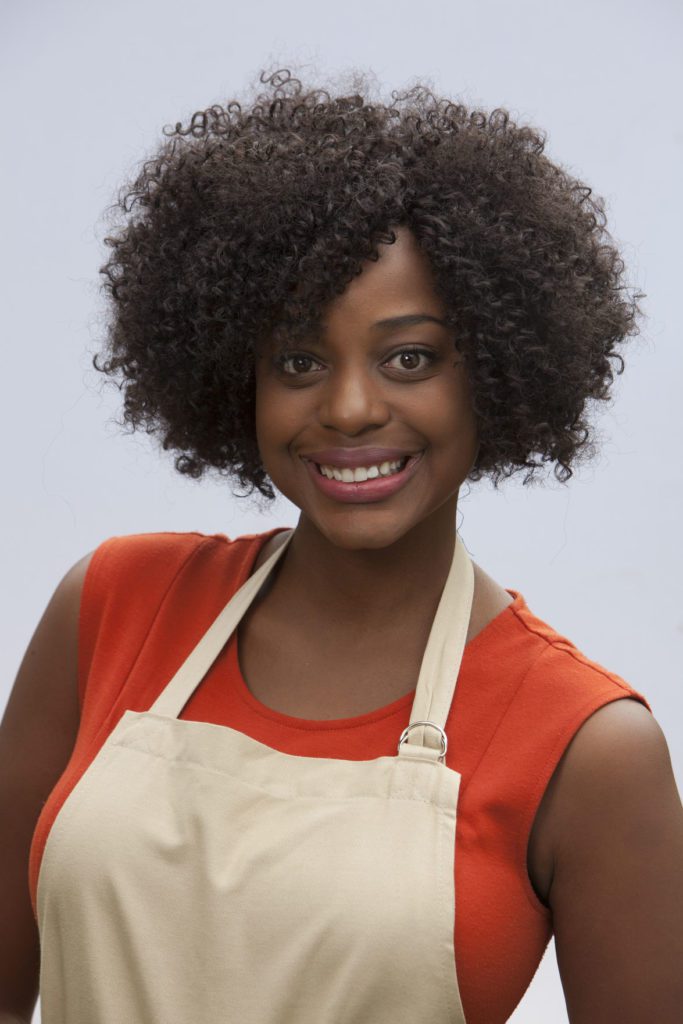 If you don't have time for the backstory, please do these things:
 Subscribe to Vallery Lomas's blog, 

www.foodieinnewyork.com

 Follow Lomas on social media.

 Suggest Lomas for a speaker (or presenter) at an upcoming event.

 Write about Lomas in food media outlets.

 Contact ABC about putting online the remaining episodes of The Great American Baking Show.
—
Let me say up front: Baking is not really my thing. I'll surely eat any baked goods offered to me, but I don't rush to be a part of the creative process. Just to show you how deep this goes, I never watch any of the baking competition shows on television. 
Imagine my surprise to find out that the fourth season of The Great American Baking Show (TGABS), hosted by food personality Ayesha Curry and sports personality Anthony Adams, crowned an African American woman named Vallery Lomas as the winner. It should have been a glorious moment in the spotlight for Lomas with her winning the competition before millions of viewers. Instead, her victory was announced on a Facebook livestream video viewed by thousands. Here's the video:
What went wrong? As chronicled in an aptly titled article in The Village Voice called "Unjust Desserts," given the mounting sexual harassment allegations against TGABS judge Johnny Iuzzini, ABC abruptly cancelled the rest of the season rather than televise the remaining 4 episodes–even though the first two episodes had decent ratings. Lomas herself has written a nice blog post giving her insider perspective on the situation.
Steve Rudin, DC-based meteorologist for ABC, tweeted this sensible suggestion for a solution:

That's what the producers of Top Chef: Colorado had in mind when faced with a similar challenge this season because of sexual harassment allegations made against Chef John Besh–one of the show's guest judges. Rather than cancel the season, they edited Besh out of the show. Evidently, ABC didn't see that as an option. Curiously, Carter Oosterhouse, host of ABC's The Great Christmas Light Fight, faces sexual harassment allegations, but ABC continued to air that show AFTER TGABS was canceled! Oosterhouse remains prominently featured on the show's web page while even Siri would need some extra time finding TGABS.
I feel for Lomas. Winning TGABS is an amazing accomplishment that should have generated much more buzz. Such publicity could have led to several television appearances, and it would have laid the groundwork for her to get a cookbook deal, or maybe even her own television show. Well, some wind was taken out of Lomas's sails, but we can do a lot to celebrate her achievement. 
HERE ARE FIVE WAYS TO SUPPORT VALLERY LOMAS
2.  BOOST LOMAS'S SOCIAL MEDIA PROFILE
When Lomas tries to take things to the next level, content producers will likely assess her social media platform. Worthy or not, content producers consider social media a strong predictor of future cookbook sales and/or television viewers. Let's mitigate one excuse for NOT giving Lomas a book/television deal by:
1.  Following her on Instagram, Pinterest, and Twitter.
2.  Liking her Facebook fan page.
After you follow Lomas on social media, ask everyone you know to do the same! An appreciable social media spike will show content producers that we're interested in seeing and hearing more from Lomas. 
3.  BOOK LOMAS AS A SPEAKER OR PRESENTER AT UPCOMING EVENTS!
Second, if you know of any organizations looking for interesting speakers, suggest Lomas! Getting more exposure will help boost her profile. 
4.  IF YOU'RE A FOOD JOURNALIST ON STAFF AT A MEDIA COMPANY, OR A FREELANCER, WRITE ABOUT LOMAS! 
5.  LET'S GET ABC TO AIR THE REMAINING EPISODES ONLINE!
My last thought is that we should persuade ABC to make the remaining GABS epidodes available online. Yes, the allegations against Iuzzini are whacked, but I think we can stomach seeing him onscreen for the sake of celebrating all of the hard work done by Lomas and the other contestants.
Here's the contact information for ABC's social media on Lomas where you can leave an encouraging comment.:
Here's the contact information for the Great American Baking Show. You may leave an encouraging comment there:
YouTube (only one video posted)
Lomas summed up her experience perfectly when she said: "When life throws you lemons, make lemon curd"! I love that! So, when you post about Lomas, use #LemonsToLemonCurd.
I'm going to do all that I can help this talented sistah out, and I hope that you will too!