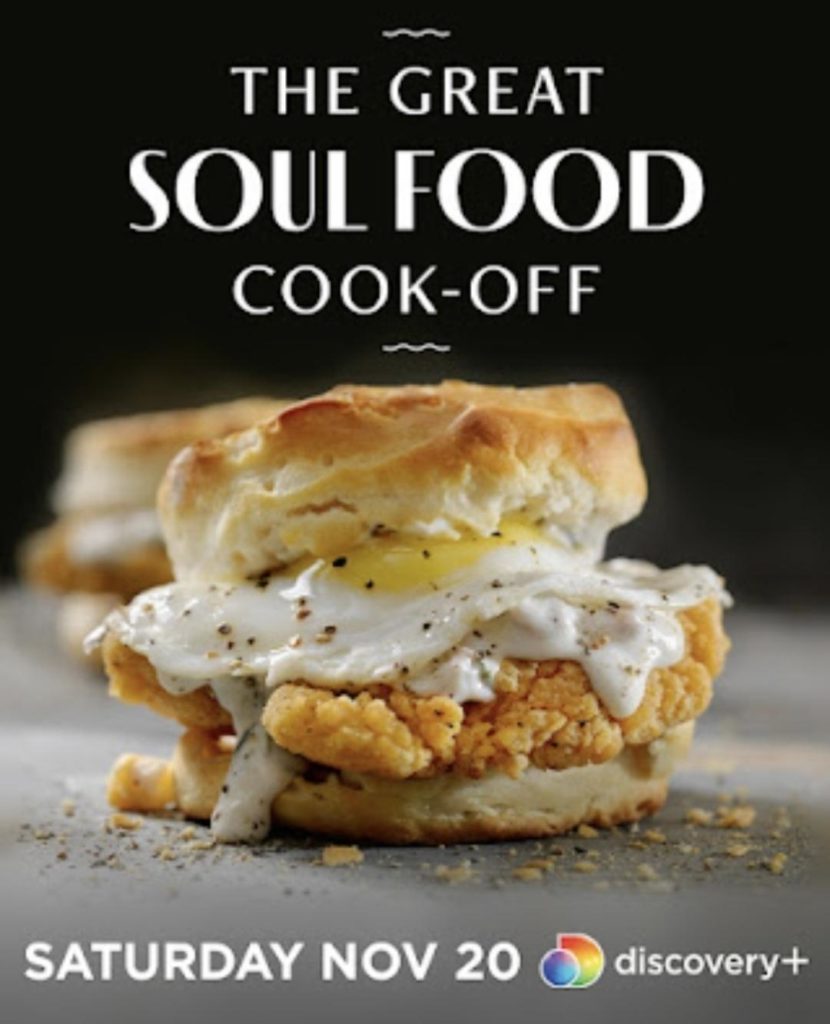 I'm blogging on the inaugural season of The Great Soul Food Cook-Off that currently airs on the Discovery+ streaming service. Remember, to view this competition show, you have to subscribe. New episodes become available every Saturday during the six-week run. Here's my recap of Episode Four, "The Sound of Soul Food."
I mention that this is "sort of" a recap because I'm not going to reveal who wins challenges and who gets eliminated. Why? Because I WANT YOU TO WATCH THE SHOW. What I will do is describe the dishes cooked and provide some context where needed.
This week, to start this really fun episode. the jazzy R&B duo Acute Inflections performed and established a soulful vibe.
in addition to host Kardea Brown, of The Food Network, Chef Eric Adjepong, and Melba Wilson of Melba's Restaurant in Harlem, New York, this week's guest judge is Chef Tiffany Derry, a Top Chef alum and celebrated restaurateur.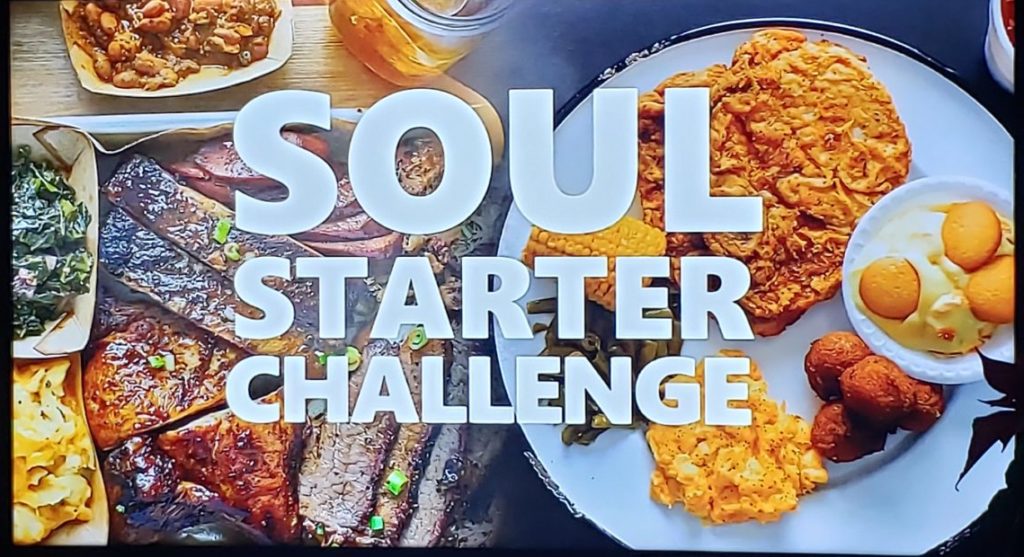 For the "Soul Starter Challenge" round, the chefs had to "take on a soul food brunch pairing to present" to the judges. Here's what they made (the pairing is in bold):
Chef Chris: Lemonade-fried chicken with potato waffles
Chef Dorian: Fried green tomato and okra hash with poached eggs
Chef Fred: Flatbread hoe cakes and jerk greens (spiked with bourbon!)
Chef Jamarius: Chicken fried steak with a potato scallion pancake (his version of taters)
Chef Razia: Buttermilk biscuits and gravy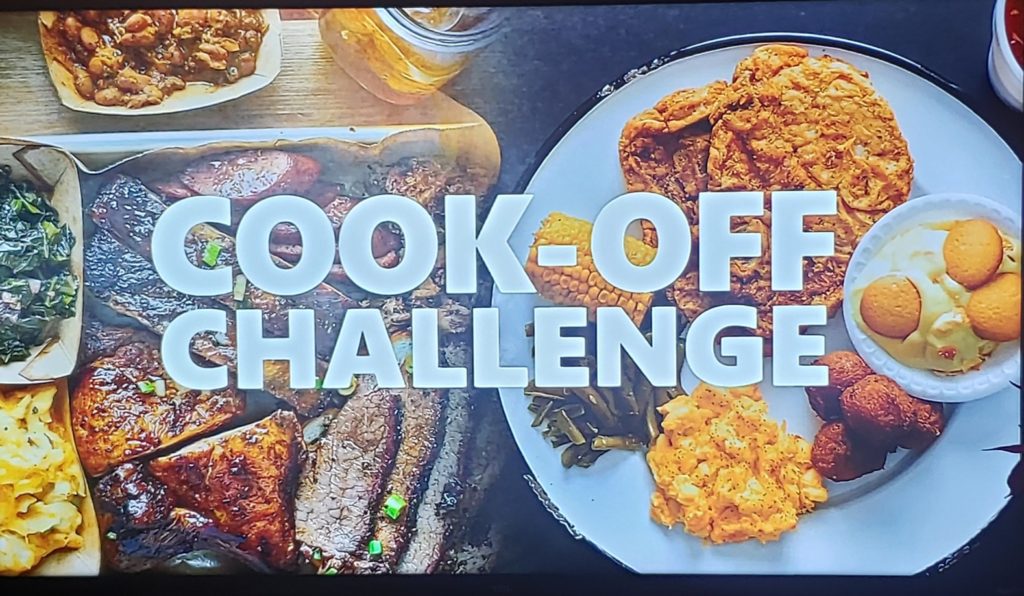 For the elimination round, the chefs had to create a dish "inspired by a musical genre influenced and elevated by Black Americans."
Here's what they made:
Chef Chris: Black rice-crusted oyster and shrimp with a corn cream (rock 'n' roll)
Chef Dorian: Pan-seared duck with sweet corn puree and braised Swiss chard and beet root greens (gospel)
Chef Fred: Pan-seared sea bass with a soy-honey glaze, mashed purple potatoes and broccolini (Motown)
Chef Jamarius: Black and blue ribeye with bourbon-Dijon sauce (blues)
Chef Razia: Herb-roasted chicken wings with sweet potato souffle and sauteed cabbage (neo-soul, particularly Jill Scott)
You'll have to tune in to see who wins!
My soulful thoughts:
Brown states at the beginning that the word "soul food" can be traced to the 1920s. "It was inspired by the soulfulness that jazz singers brought to the scene. Soul food and jazz go together like chicken and waffles." She later added "That's where soul food got its name . . . in these jazz clubs, in these blues clubs." Chef Wilson added, "Harlem is the mecca for food and for music especially in the Black culture. We have a ton of churches and you're gonna some of the best music that you've ever heard. And the service starts at 8 and finishes and 3. Okay. You sit there and your stomach is grumbling and grumbling."
I have a slightly different and more emphatic take on the church's cultural influence here. My research indicates that the term "soul food" has been used in English for centuries. First by Shakespeare using some interesting romantic word play in his first play The Two Gentlemen of Verona (published circa 1593). For the next few centuries, "soul food" had a religious connotation. Its use referred to anything that would edify a person's spiritual life: listening to sermon, studying scriptures, or singing hymns.
Fast forward to the 1940s when African American jazz artists were miffed that white jazz artists were getting more publicity and making more money than them. The Black musicians infused jazz with a sound they believed white musicians couldn't mimic: the sound of the Black church in the rural South. That gospel-infused jazz sound was described as "soul" and "funky." "Soul" as a concept and label caught fire and was applied to various aspects of African American culture: "soul music," "soul brother," "soul sister," and "soul food."
Find out more by reading my James Beard Award-winning book Soul Food: The Surprising Story of an American Cuisine, One Plate at a Time, pp. 41-42.
The dishes I most wanted to eat: Chef Chris's oyster and shrimp dish, Chef Dorian's duck, Chef Fred's sea bass, and Chef Razia's biscuits and gravy.
Please share this recap to help spread the word!