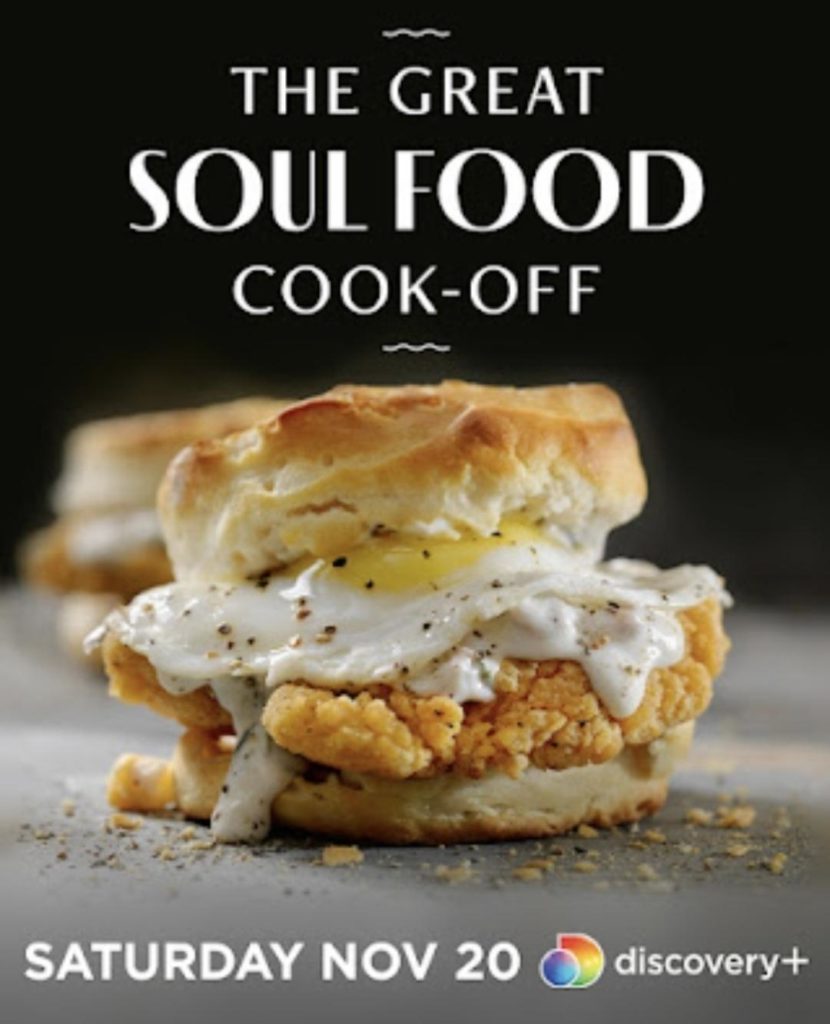 I'm blogging on the inaugural season of The Great Soul Food Cook-Off that currently airs on the Discovery+ streaming service. Remember, to view this competition show, you have to subscribe. New episodes become available every Saturday during the six-week run. Here's my recap of the finale, Episode Six–"A Joyful Celebration."
Unlike my other recaps, this recap is full of SPOILER ALERTS. I'm going to reveal who got eliminated and who won.
in addition to host Kardea Brown, of The Food Network, Chef Eric Adjepong, and Melba Wilson of Melba's Restaurant in Harlem, New York, this week's guest judges are Chef Alexander Smalls (returning) and Chef Kwame Onwuachi, a James Beard Award-winning chef, restarateur, and author.
The final three chef constestants!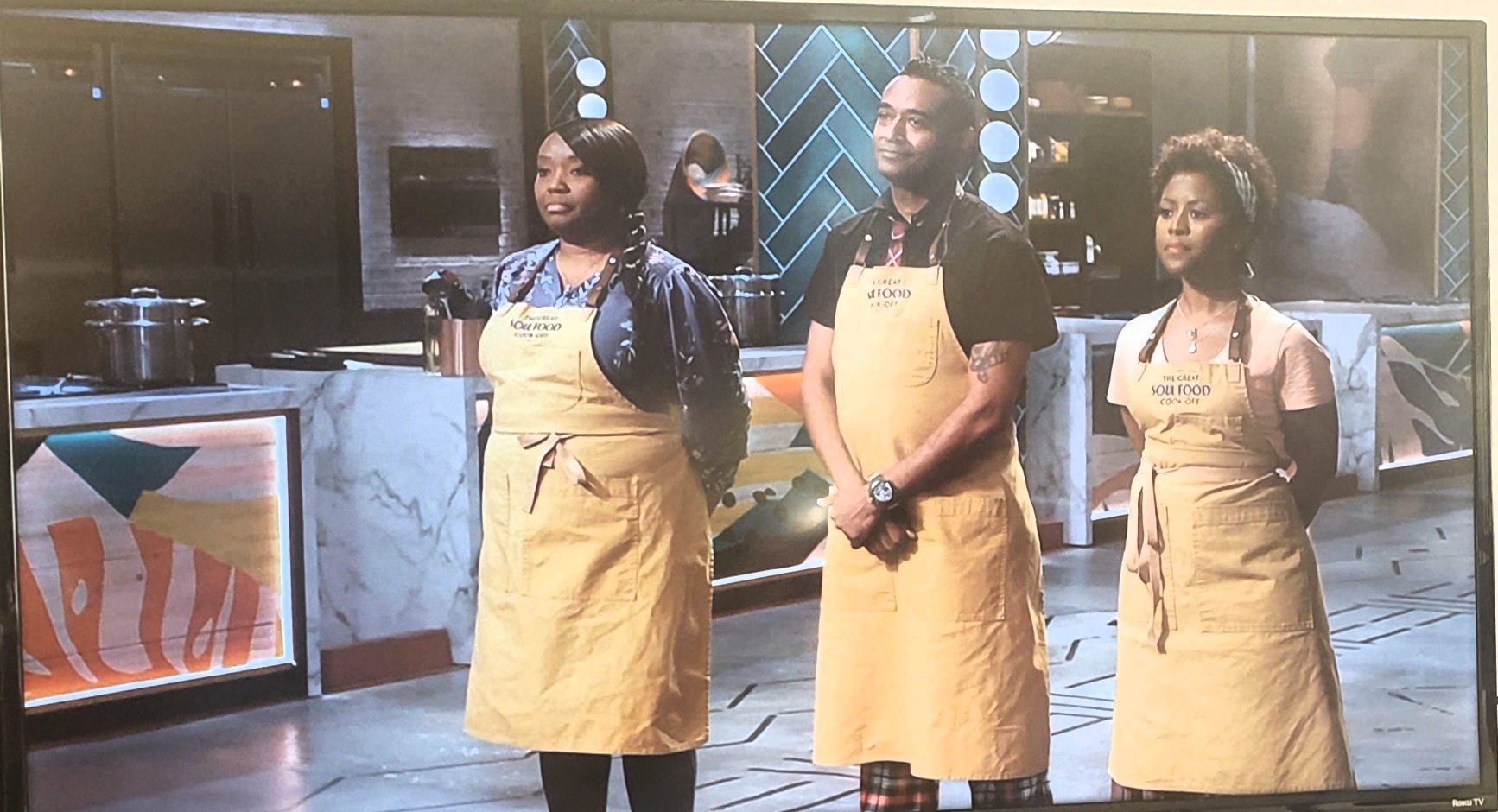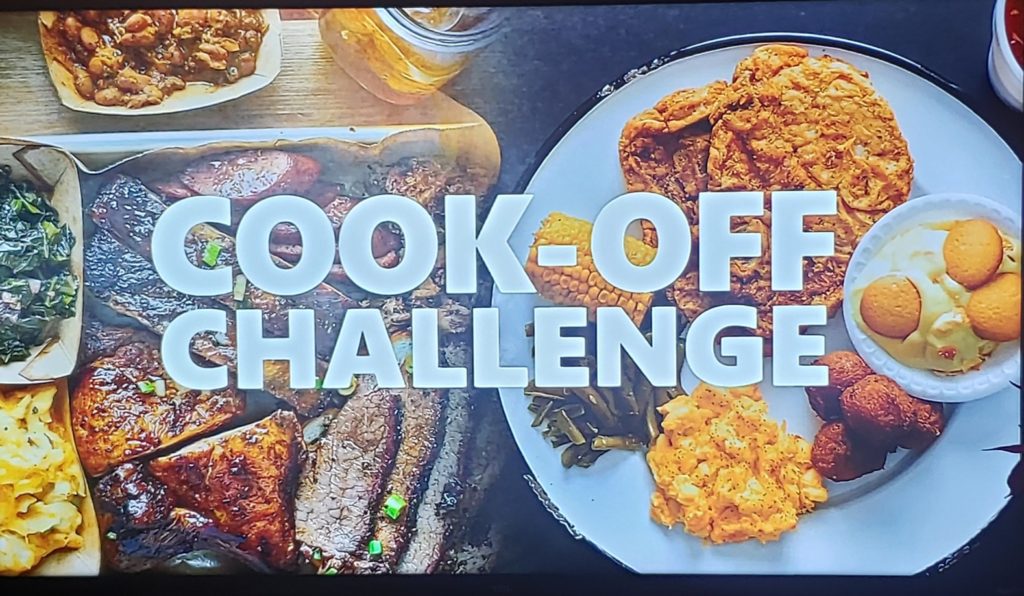 For the finale, there wasn't a "Soul Food Starter" round, only a Cook-Off Challenge. The chef contestants had three hours to create a four-course meal that reflects their soul food journey. The plot twist is that the chefs had to plate their first course after an hour, have that dish critiqued, and one of the chefs would be eliminated from the competition! Chef Wilson said the following blessing before the judges tasted and critiqued the first course: "Heavenly Father, bless the hands of the chefs who prepared the meals for us. May you give them grace, may you give them faith, and may you give them flavor. Amen!"
For the first course, here's what they made: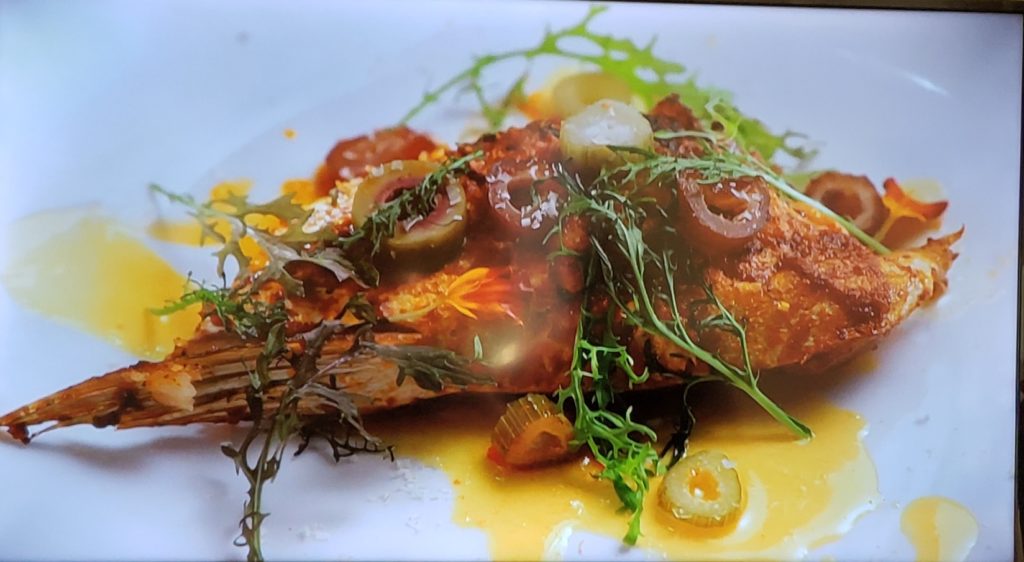 Chef Chris: Harissa-rubbed hamachi collar with pickled fennel and lemon gastrique.
Chef Dorian: Porcini mushroom risotto with a citrus crab cake.
Chef Razia: Balsamic lamb chop with onion rings and apple slaw.
SPOILER ALERT! The judges decided to eliminate Chef Dorian from the competition!! I definitely didn't see that one coming. She had consistently won many of the challenges and made great food. Since the contestants had to plan out the full meal, here's what Chef Dorian would have made:
For the remaining part of his four-course meal, Chef Chris made:
Chef Razia made the following to round out his four-course meal: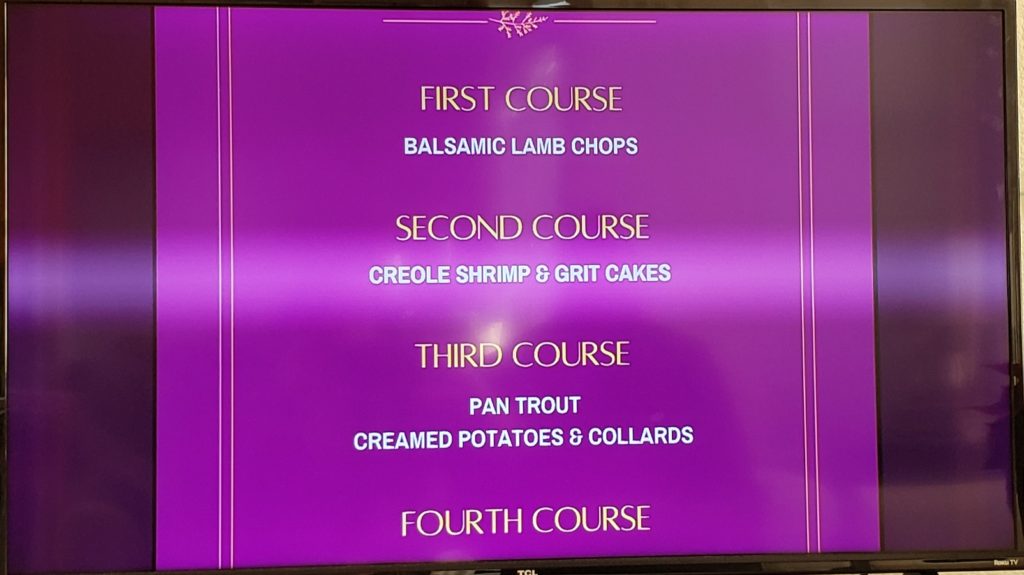 After critiquing the remaining dishes, the judges determined the winner to be . . . Chef Razia! Check out her facial expression when she realized that she had won:
Chef Razia gave a fitting benediction for the series: "I came here to show the world that soul food is beautiful. Soul food deserves as much respect as any other food. I feel proud for my culture, proud for myself, I feel proud for my family, I'm just overjoyed."
My soulful thoughts: Looking back on the series, there was much to like: the contestants, a great panel of judges (many of whom I know), high production values, some interesting challenges, and food that made viewers salivate. My main criticism is that the show wasn't consistently about soul food. I think it would have been more interesting, and possibly a fairer competition, if the contestants had to cook the same thing. For example, in the jazz brunch challenge, what if everyone had to make their own version of chicken and waffles? It seemed like the judges were too often comparing apples and oranges.
Viewers who were new to soul food didn't get a better feel for the cuisine other than it being something that African Americans prepare. There were some nice historical tidbits to punctuate the soul food journey and inform viewers. Yet, these often didn't fully connect the necessary dots. Overall, just too many missed opportunities to provide some much-needed context. For those more familiar with the cuisine, there were too many head-scratching moments. Should the competition get renewed for another season, there's always room for growth. I also hope that the show is more heavily promoted. Just from the feedback from my blogging and the lack of social media chatter, I can tell that a lot of people didn't know about this show.
Find out more about soul food in my James Beard Award-winning book Soul Food: The Surprising Story of an American Cuisine, One Plate at a Time!
The dishes I most wanted to eat: Chef Chris's hamachi collar, Chef Razia's shrimp and grits, and Chef Dorian's fish and grits (just going by the menu description since she didn't get a chance to make it).
Please share this recap to help spread the word!