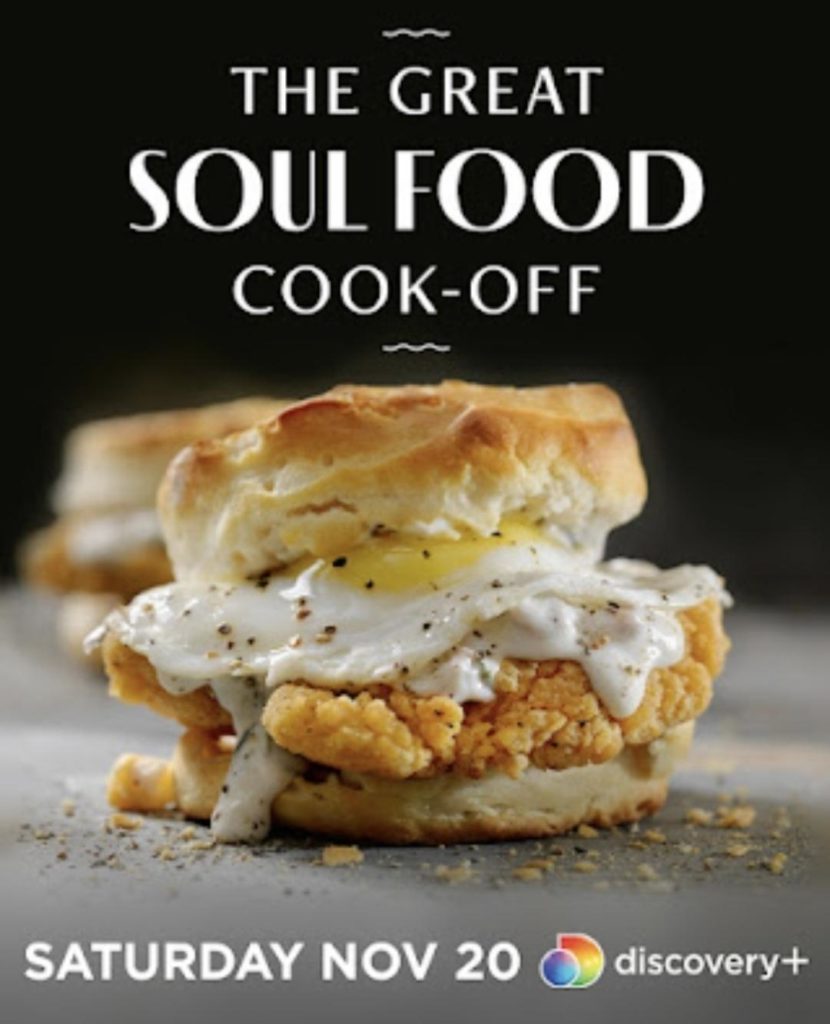 I'm blogging on the inaugural season of The Great Soul Food Cook-Off that currently airs on the Discovery+ streaming service. Remember, to view this competition show, you have to subscribe. New episodes become available every Saturday during the six-week run. Here's my recap of Episode Two, "And Still We Rise."
I mention that this is "sort of" a recap because I'm not going to reveal who wins challenges and who gets eliminated. Why? Because I WANT YOU TO WATCH THE SHOW. What I will do is describe the dishes cooked and provide some context where needed.
This week, in addition to host Kardea Brown, of The Food Network, Chef Eric Adjepong, and Melba Wilson of Melba's Restaurant in Harlem, New York, this week's guest judge is the legendary Alexander Smalls, a James Beard Award-winning cookbook author and restaurateur.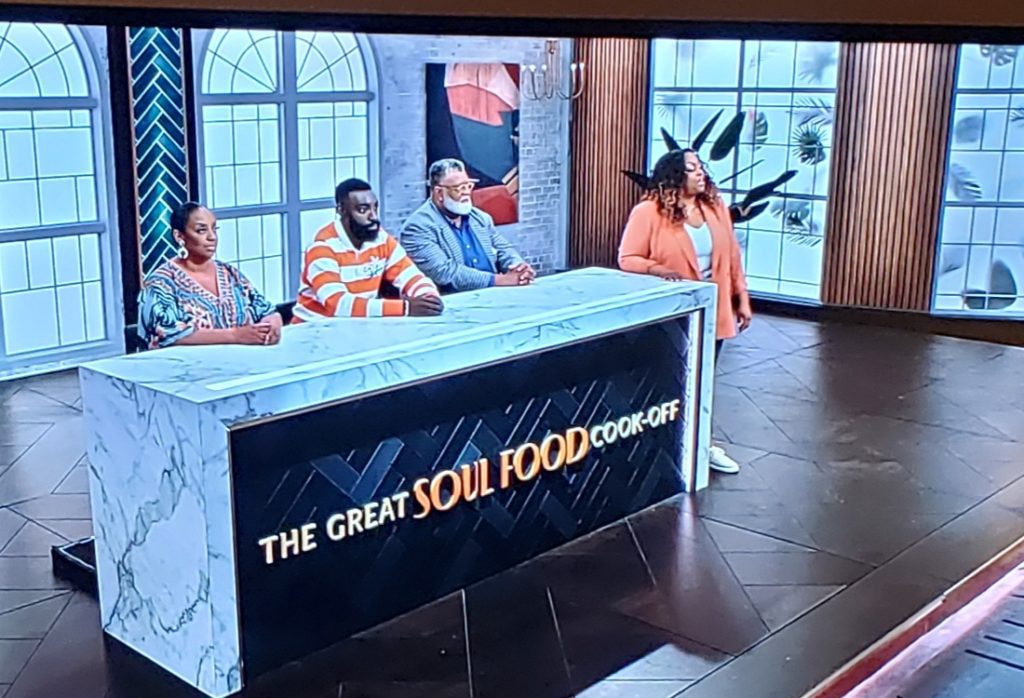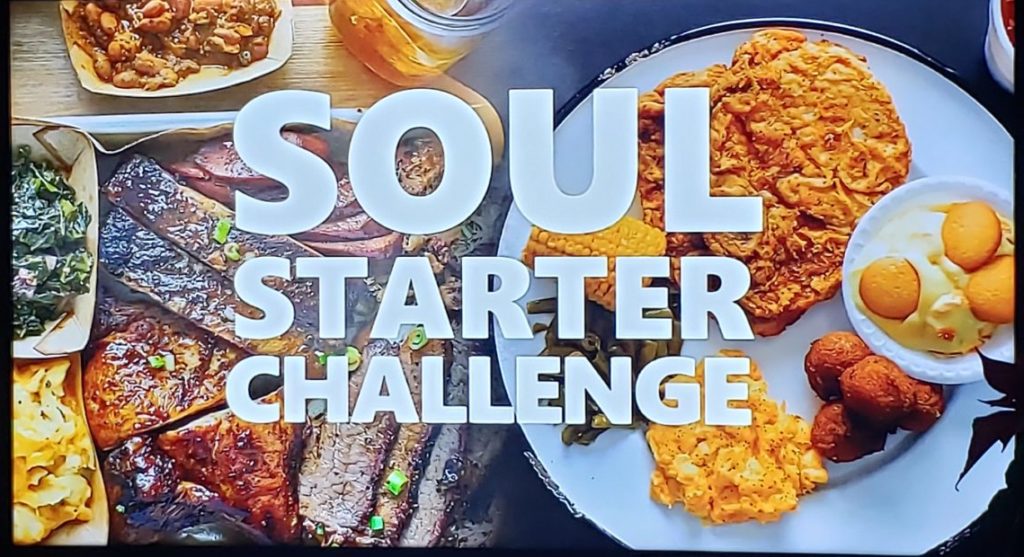 For the "Soul Starter Challenge" round, the chefs were assigned various parts of a pig (indicated below in bold) to cook. In all ways, "from the rooter to the tooter." Here's what they made: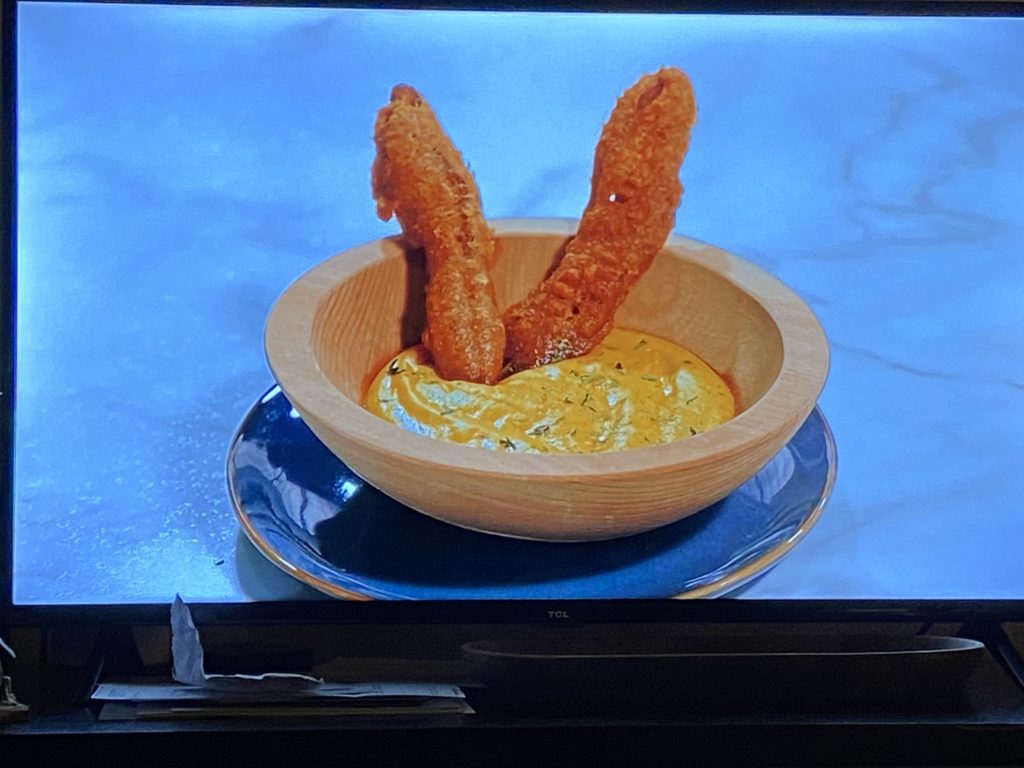 Chef Chris: Pig tail scrapple with okra chow chow
Chef Dorian: Pig's feet stew with Carolina Gold Rice grits
Chef Fred: Black-eyed pea snout soup
Chef Jamarius: Braised chitlins with frisee coleslaw and fried okra
Chef Razia: Fried pork liver with gravy and cannellini beans
Chef Shac: Brown stew spleen with coconut rice
Chef Tirzah: Beer battered pig ears with a sweet potato coconut bisque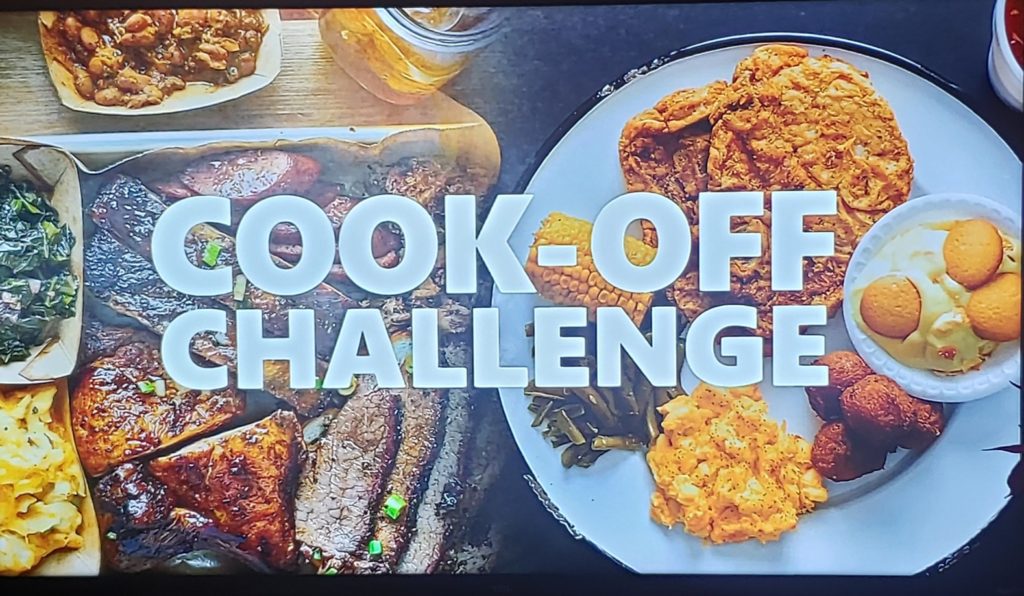 The elimination round was called "The Tribute to Trailblazers." Here's what they made to represent an African American icon: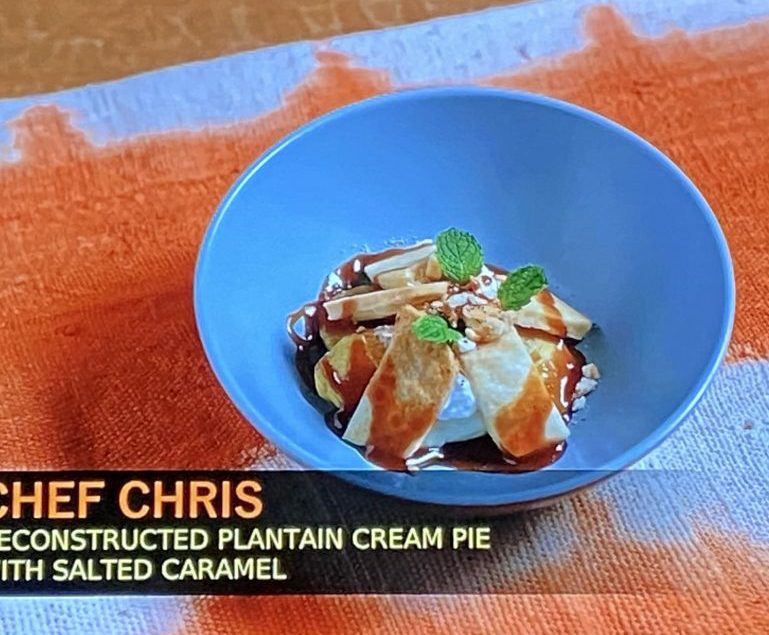 Chef Chris: Deconstructed plantain cream pie with salted caramel (Stacey Abrams)
Chef Dorian: Butter-basted herb lamb chops, mac 'n' cheese, and sweet potato puree (Beyonce)
Chef Fred: Bread pudding dancing over a berry pool compote (Amanda Gorman)
Chef Jamarius: Jerk red snapper with braised cabbage and mac 'n' cheese. (LeBron James)
Chef Razia: Seared chicken breast with baked mac 'n' cheese (Michelle Obama)
Chef Shac: Cognac cream-smothered chicken breast with smoked gouda grits and fried collard greens (Spike Lee)
Chef Tirzah: Seafood etouffee with creamy grits (RuPaul)
Some very interesting approaches! Again, tune in to see who wins!
My soulful thoughts: To give the first cooking some context, it evokes the hog-killing–a momentous occasion, typically in the fall, when numerous pigs were slaughtered, processed, and preserved to provide meat for another year. This happened from the earliest days of colonization throughout the American colonies well into the twentieth century. A hog-killing was often a collaborative effort where people from neighboring farms and plantations pooled their resources (labor and pigs) to maximize the amount of meat produced. In the antebellum South, whatever the context, enslaved African Americans were forced to do most of this work.
The hams and shoulders were the prestigious and preferred cuts for longtime storage. This gives rise to the term "eating high on the hog" because of the location of the meat on the pig. Everything else, particularly the organ meat, was distributed for immediate consumption. This occurrence has fed the long-held belief that soul food solely consists of "scraps" and the food that whites didn't want. Yet, plenty of whites ate those same foods, even chitlins (pig intestines). Yes, you read that correctly. White people also eat chitlins. Enslaved cooks became adept at cooking various parts of an animal, hence this challenge. The only ingredient that gave me pause for its inclusion was the spleen. I don't recall many references to it in the numerous sources that I've consulted.
The "Tribute to Trailblazers" was definitely fun. I would have liked to see more of a culinary connection to the icons, but in fairness, the chefs didn't have any time to research their subjects. They had to rely on impressions and go forth. So, I'm definitely not dwelling on the head-scratching choices made. To me, Chef Razia's dish showed the clearest connection to the icon given. That said, I LOVED the name that Chef Fred gave his dish.
One other observation: There's A LOT of mac 'n' cheese going around. I'm surprised the judges are not commenting on it because they have pointed other tendencies and their desire to see something new.
What I wanted to eat: Chef Chris's pig tail scrapple, Chef Fred's bread pudding, Chef Jamarius's jerk red snapper, and Chef Shac's smothered chicken breast.
Please share this recap to help spread the word about this show!