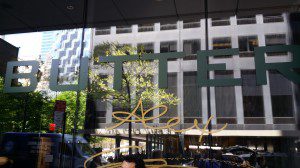 One of my biggest scores for the James Beard Awards weekend was an invite to the "Southern Mafia" lunch. It's a great time for some folks to gather and support the Southern Foodways Alliance.  The meal was hosted by Chef Alex Guarnaschelli at her Manhattan restaurant Butter. It's cool how the restaurant is underground with big windows above. At times, you feel like you like you're looking up from a forest floor. This meal was EPIC, yo! We got a series of small plates. Here's a look at the first wave of what we ate:
(Moving left to right) Pheasant deviled eggs, pureed liver with spring vegetables and country pate with diced persimmon.
A lonely piece of foie gras on some bread remains from a full platter (because I  was too slow to take a picture before  people started grubbing!), a trio of Parker  House rolls, and a spring lettuce salad with a raspberry vinaigrette.
Next up was duck mortadella with berries and caramelized shallots, pickled carrots and radishes, and fried calamari with lemon slices and a red pepper sauce, roasted turnips, and another dressed salad.