The Southern Foodways Alliance ("SFA"), one of the nation's premier food organizations, has honored me as the recipient of the 2018 Ruth Fertel Keeper of the Flame Award. According to the SFA website, this prestigious award "honors an unsung hero or heroine, a foodways tradition bearer of note . . . ." I got this award while attending award at the SFA's 2018 fall symposium on "Reading Food: From Menus to Soap Operas to Novels.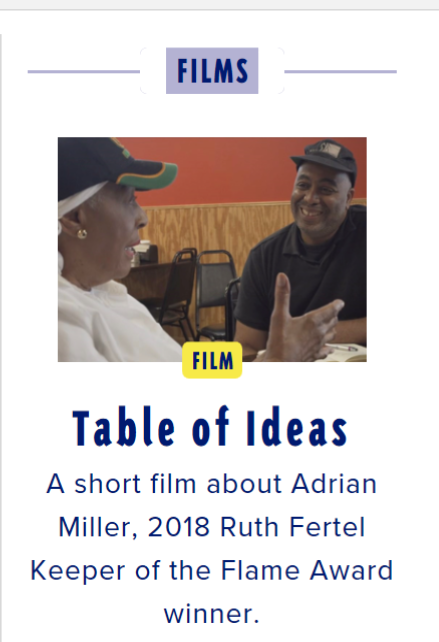 I'm thrilled to get this award because of my long association with the SFA. I first joined the organization in 2002 because the theme that year was barbecue. I fell in love right then and there. A couple years later, I got on the board and continued in that capacity until 2008. That time was invaluable as I got up to speed on southern food and started working on my soul food book. The knowledge gained and friendships forged will stay with me the rest of my life.
It was a magical night. We started off with a cocktail hour at the Oxford Pavillion. Joe Stinchcomb , a bartender at Oxford's Saint Leo restaurant, created a red drink in my honor (ingredients included hibiscus-infused rice milk, bourbon, molasses, lime and bitters). We also grubbed on some delicious beef belly barbacoa prepared by Chef Miguel Torres of the Lantern Restaurant in Chapel Hill, NC.
Doing this work isn't always easy. The book royalties, freelance writing and speaking gigs don't come close to paying the bills. That means I'm constantly hustling for the next thing, and that can be a grind. Still, I'm very grateful to do something that brings so much joy. There have been times where I've thought "I wonder if anyone else digs what I'm doing." This award answered that question with an encouraging and resounding "YES!"
Thank you, so much, to the SFA and the Fertel Foundation!!
About the Southern Foodways Alliance
Based in Oxford, Mississippi, the Southern Foodways Alliance documents, studies, and explores the diverse food cultures of the changing American South. Its work sets a welcome table where all may consider our history and our future in a spirit of respect and reconciliation.
About the Fertel Foundation
The Fertel Foundation, located in New Orleans, Louisiana, supports the arts, education, and food culture and has a special interest in initiatives from which new communities and new insights may emerge and those that challenge entrenched communities of power.
Find out more about past Ruth Fertel Keeper of the Flame Award Recipients HERE.