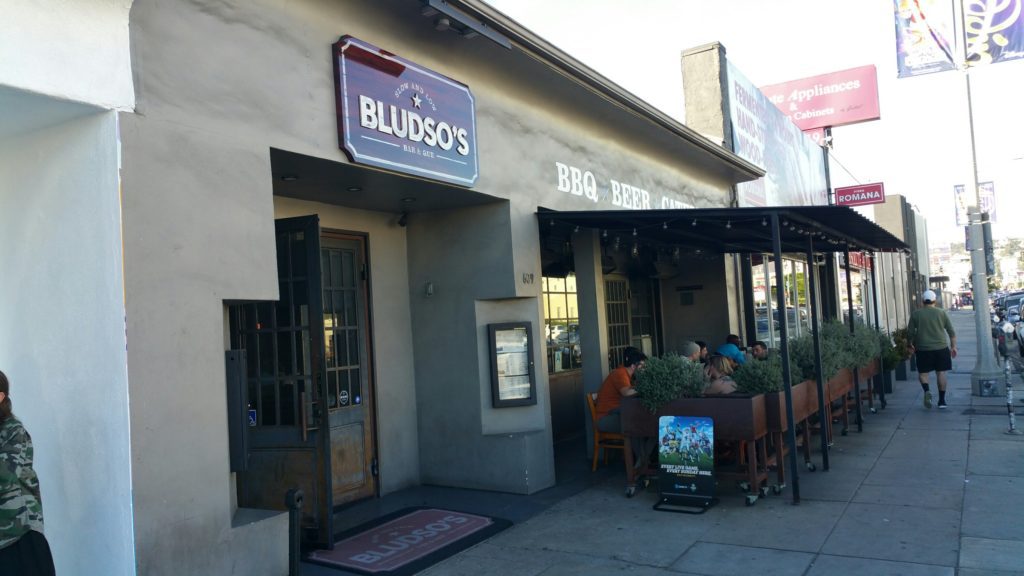 This is a throwback post! I was in Los Angeles last January for the 2018 NAACP Image Awards. My book, The President's Kitchen Cabinet, was nominated for "Outstanding Literary Work–Non-fiction." As you probably know, I'm always "researching" soul food and barbecue whenever I travel. My friend, Eddie Gehman Kohan, told me about a place called Bludso's. By the time I got to LA, the original location in Compton had closed, but there was another location in the city.
Here's my rundown:
Meat
Pork spareribs: a true delight! It was everything I want in a sparerib: tender but with a slightly crunchy exterior, and a wonderful smoky flavor.
Beef brisket: If the option is available, I always get a mix of lean and moist (fatty) brisket slices. It too was tender, and had a good smoky flavor.
Hot link and jalapeno cheddar sausage: These were also tasty. The jalapeno cheddar sausage had a nice kick, and I love that the cheese was oozing out as I bit into it.
Sides
Baked beans: Pretty standard, and wonderfully spiked with small chunks of brisket.
Collards–With so many restaurants serving vegetarian greens, I was surprised to find nice, delicious bits of pork to season this dish. Very solid culinary performance.
Potato salad: This version is creamier than what one might expect, headed in the direction of mashed potatoes. I like mine a little chunkier, but this was fine nonetheless.
Cornbread: a nice sweet, soulful cornbread.
Drinks
Cheerwine: This cherry-flavored drink is a local favorite in North Carolina.
Hibiscus agua fresca: My heart leapt for joy when I saw this on the menu. Hisbicus drinks connect this African diaspora, but in the U.S., they are more associated with herbal tea companies and Latinx. Hibiscus is native to West Africa, and is used to make a popular drink called bissap. As a consequence of the Atlantic Slave Trade, that drink was transplanted in the Caribbean, particularly Jamaica, where it is known as sorrel. As it spread throughout the region and was embraced by Latinx, it became agua de Jamaica (literally "Jamaica water"). It has a tart cranberry taste that is mellowed out with some sweetener. This is a WONDERFUL soft drink, and I hope that you will try it.
Dessert
Chocolate chess pie: As Nancie McDermott writes in her authoritative book Southern Pies, chess pies are similar to custard pies and are "a luscious combination of eggs, butter, and something truly sweet, such as molasses, sorghum syrup, or brown or white sugar."
Sweet potato burnt sugar ice cream: Just like a dream. I was expecting a heavy-handed approach with this ice cream, but the flavors are subtle. A great way to end my meal.
I highly recommend this place!
Bludso's Bar & Cue
609 N. La Brea Avenue
Los Angeles, CA 90036