My friend Mark Antonation, a food writer for Westword, tipped me off to Hungry Wolf BBQ and Catfish–a new barbecue joint in my part of town. Although he did so under whack circumstances. It turned out that right after Hungry Wolf opened, someone STOLE THE SMOKER SET UP IN THE FRONT OF THE RESTAURANT!!  I mean, seriously, who does that? Unfortunately, this isn't an isolated incident. Several barbecue joints in Colorado have either had their smokers stolen or vandalized.
Hearing about what happened, and that it is an African American-owned barbeue business, I rushed to support them. I went there yesterday, and this was a very welcome sight: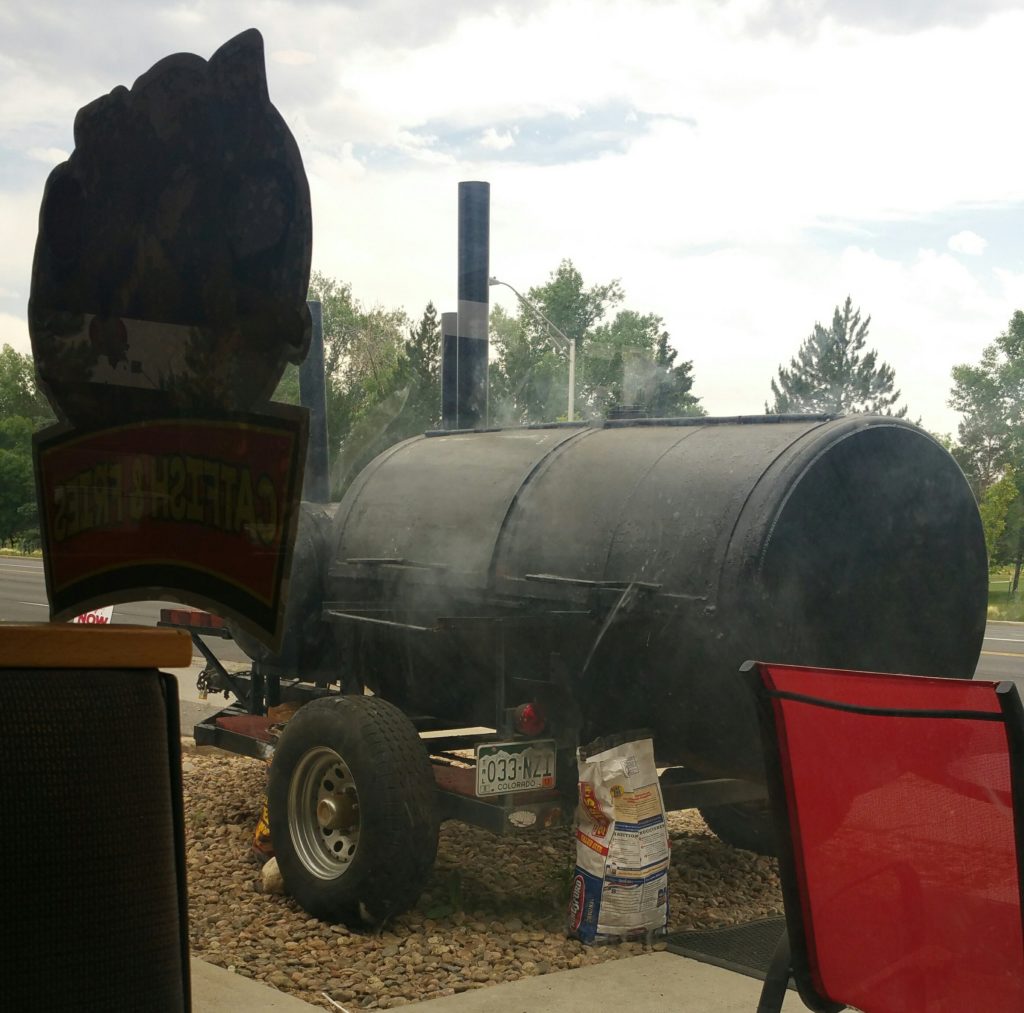 The smoker is fully-operational! I was there for lunch, and I got a nice sample of most things on the menu. I ordered the "Hungry Wolf Platter": a pork sparerib, a beef short rib, a quarter of smoked chicken, a split hot link, a fried catfish filet, two fried shrimp, and a choice of two sides (I got red beans and rice and coleslaw).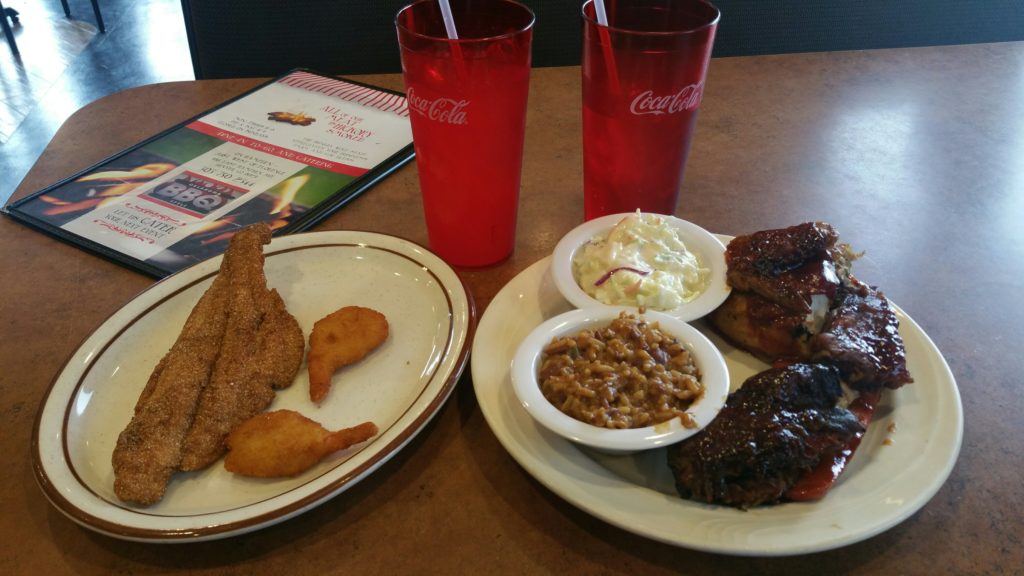 Here's my assessment:
Pork spareribs–a nice smoke flavor, and my piece was on the lean side.
Beef rib–I was expecting a big rib, but this was more like a short rib. It was tender, and had great flavor. Not too chewy and stringy like so many other beef ribs that I've had.
Catfish–fried hard so that it had crunch, but the coating didn't have a lot of seasoning. Fortunately, there was hot sauce nearby to do the trick.
Chicken–the quarter had good flavor, but the breast was a little dry.
Hot links–had some nice kick, but it wasn't the really spicy, coarsely-ground hot links that I'm used to getting in an African American-run barbecue shop.
Fried shrimp–they were lukewarm by the time that I got them. Just OK.
Red beans and rice–this was a very good side dish. Please note that all of the sides here are pork-free. As good as this was, I really missed having some Louisiana-style sausage in the mix.
Coleslaw–much too creamy. So much so that the cabbage gets lost.
I was too full for dessert, but I'll be back. I hope that you'll give Hungry Wolf a try as well.
I got a chance to speak with the owner who said that he offers "Oklahoma-style barbecue." I tried to get a fuller description, but his answer was cryptic. I'll keep investigating!
Hungry Wolf BBQ & Catfish
9865 Hampden Avenue
Denver, CO 80231