After doing my The President's Kitchen Cabinet event at the Harvey B. Gantt Center for African-American Arts + Culture in Charlotte, North Carolina, I took a couple of days to visit some select African American-owned barbecue joints in North Carolina.
Keaton's Barbecue, Cleveland, NC
My first stop was Keaton's Barbecue in Cleveland, NC. This place has been open since the 1950s, and it specializes in something called "dipped chicken." Dipped chicken is fried chicken that is drowned in a thin, spicy barbecue sauce. I first heard about dipped chicken in this Garden & Gun article written by Jed Portman. Portman describes dipped chicken as: "North Carolina's answer to Nashville hot chicken." Here's a recipe if you'd like to make some at home.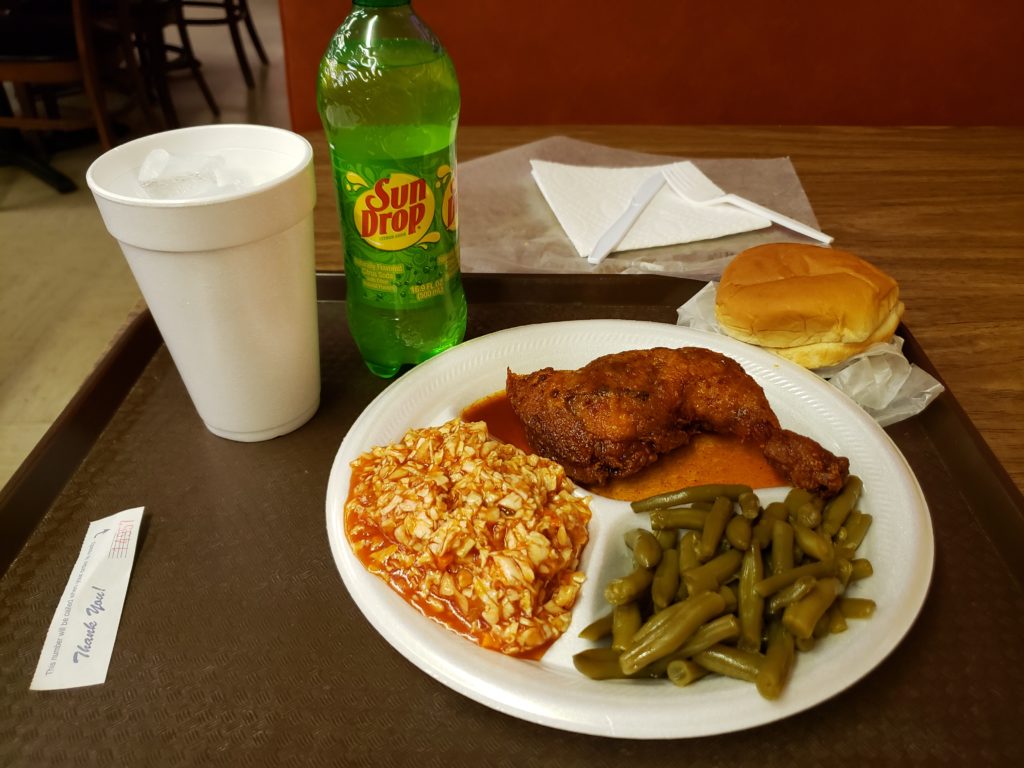 In addition to the dipped chicken, I got green beans, a barbecue sauce-infused coleslaw, hamburger buns as bread, and some Sun Drop soda (something I don't get in Denver). The dipped chicken was good, but it didn't "wow" me. Everything else was pretty standard. I'm glad I tried dipped chicken, and I will try to make it at home.
Backyard BBQ  Pit, Durham, NC
My next stop was Backyard BBQ Pit in Durham. This place was recommended to me by North Carolina barbecue expert John Shelton Reed. If you haven't read his book Holy Smoke: The Big Book of North Carolina Barbecue, it's a must-read for understanding this regional style. Fortunately, John was able to join me. The interesting thing about this place, in addition to its old school vibe, is that its menu isn't confined to the North Carolina regional style. For example, there are beef options on the menu. Yet, it does have the North Carolina standards which I did order.
The chopped pork shoulder was excellent: delicate amount of smoke, light vinegar flavor, and a nice amount of pepper. The same could be said of the chopped turkey which is also prepared in an Eastern North Carolina style. I'm seeing more turkey treated this way in African American barbecue joints. The spareribs were fatty and drenched in a wet sauce, but I like it that way. The hush puppies were spot on as well. I can see why Clay Aiken loves this place (he even signed his name on the wall).
I really enjoyed chatting with owner Melvin "Big Paulie" Simmons. I definitely recommend this place!
Grady's BBQ, Dudley, NC
Every once and awhile, I visit a barbecue joint that is truly superlative. Grady's BBQ is that place. It's a true temple of Eastern North Carolina Style Barbecue.  Read more about Grady's here. 
I really loved this meal. Everything was well-seasoned and satisfying. The chopped pork was succulent, and all of the sides hit the right notes, especially the lima beans seasoned with pork. Here's my video:
Steve and Gerri Grady are a wonderful couple, and I'm not sure how much longer they're going to be operating this restaurant. If you're in the Raleigh area, and you've got some time, you need to roll though. Just make sure you call before heading over since they have limited hours. This place is definitely on my top ten list for best barbecue in the U.S.