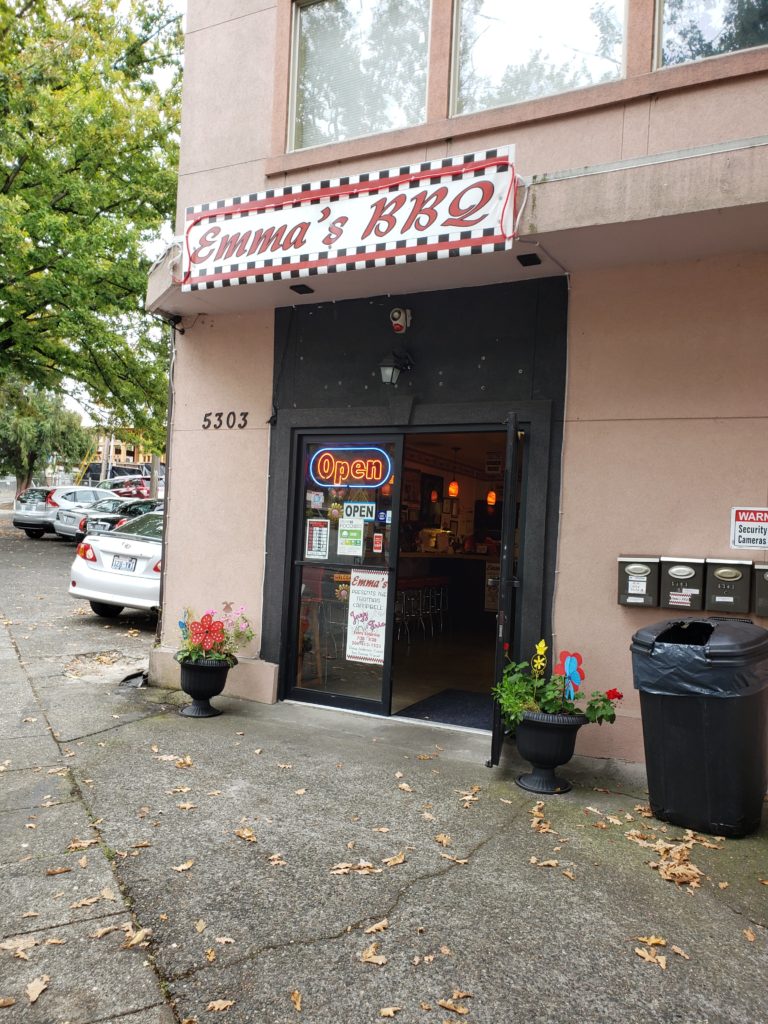 This was the second spot on my barbecue research trip.
Here's the rundown:
Beef brisket–served in chunks, and not as smoky as I would have liked.
Chicken–served in boneless chunks, not as smoky as I would have liked.
Hot links–finely ground sausage with good amount of spice.
Pork spareribs–tasty with good texture and spice.
Rib sandwich–served in a hoagie bun, instead of the usual slices of white bread.
Greens–good flavor, fairly standard.
Mac 'n' cheese–nice and cheesy, reminded me of scratch mac 'n' cheese I would make at home.
Potato salad–fairly standard.
Blackberry Lemonade–an unusual and very refreshing combination.
As I was leaving, I introduced myself to the staff, and I met Tess Thomas, the proprietor (Emma was her mother, I believe). We chatted and she asked me how I liked the food. I gave her my report, but told her that I didn't get any pulled pork because it wasn't ready. She told me that it was now ready, promptly went back in the kitchen and gave me a sample. I'm so glad that she did because that pulled pork was excellent. It a nice outside bark, and was moist and flavorful on the inside.
A big thanks to (left to right) Willow, Robin, Cole, Laura, Piper and Jan for joining me!